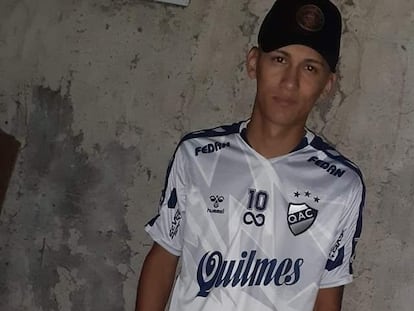 From the victim of robbers to killing one of them in self-defense. The Argentine Justice released the 27-year-old woman who stabbed Rodrigo Manuel Yugar, 21, on the grounds that she acted in legitimate defense during an attempted robbery on the southern outskirts of Buenos Aires, according to judicial sources cited by the agency. Telam. The incident, which occurred in the town of San Francisco Solano last Wednesday, caused commotion and controversy in Argentina.
According to the reconstruction of the events broadcast by the media, the woman left her house on her way to work early in the morning, when it had not yet dawned and the streets were almost empty because it was a holiday, and she was assaulted by two thieves on a motorcycle. One of them got off her to try to steal her purse and pretended to have a gun in her pants, but the victim refused to hand over her belongings. The second came from her to her aid and pulled out a knife to threaten her. In the midst of her struggle, she snatched it from her and plunged it into the chest of the first of the thieves, who died almost instantly.
The young woman began to scream for help and was rescued by her parents, while the second attacker got on the motorcycle and fled. Thanks to the vehicle, the police identified the fugitive as Kevin de Vaux, 28, and arrested him for alleged "qualified robbery with attempted use of weapons." De Vaux had a criminal record and had been free for two months after serving another sentence for robbery.
The deceased, Rodrigo Manuel Yaguar, alias chapu either grasshopper, He appeared on social networks as a fan of Quilmes and shared Bible verses and song lyrics. Family and friends posted messages of condolences on her Facebook wall, but as the days passed, it was also filled with hundreds of insults and ridicule from Argentines.
"This is a very quiet neighborhood, a central area. It's unfortunate what happened. We practically found out when the event had already happened, because most of us don't work due to the holiday. It is very unfortunate because we have to go out very carefully and even more so as women," Claudia, a neighbor, told the news network. C5N.
The Justice decided that the woman, with a reserved identity, be released considering that she acted in legitimate defense. For this reason, it is expected that the case against her will be filed.
Insecurity is one of the main concerns of Argentines, only behind inflation and corruption, according to the Political Satisfaction and Public Opinion Survey carried out monthly by the University of San Andrés. In recent years, several cases of criminals murdered at the hands of their potential victims have received great media attention.
Subscribe here to the EL PAÍS América newsletter and receive all the key information on current affairs in the region